FOOD 52 YOU ROCKED OUR WORLD AGAIN.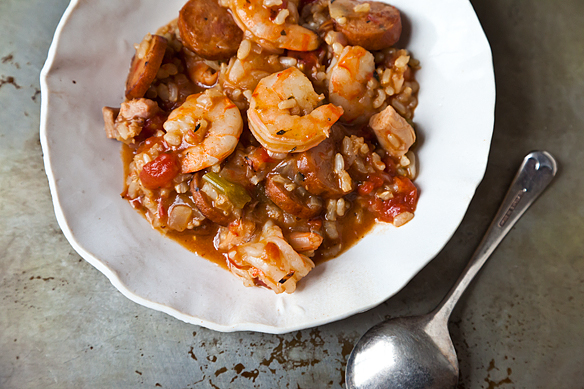 Second weekend now of making two meals that we can eat all week for lunch. We went with a pasta and a rice this time.
SOOO…i'll write about our RICE dish.  holy crap. like holy shrimpy crap. WOW.
Mike's mom is in the hospital – today she broke her tib/fib right below her knee replacement and she was on the phone with me when she fell ! and i just can't even believe she's sitting in a hospital bed right now. Right before Easter and it's just so sad. She's really tough though and i think it inspires us all. So we brought her some of the Jambalaya and she LOVED it! Made me so so happy because she is a wonderful cook.
(By the way, today, Spooky Wagons nail got caught on my "T" key on my keyboard and things are feeling a little weird here)
SHRIMP JAMBALAYA:
1

pound fresh shrimp – i chose not to use any sausage

1 – 2 

tablespoons olive oil

1 

nice large onion, diced

2 

stalks celery, diced

2 

fat garlic cloves, minced – i used 3

1 Red bell Pepper

1 Green bell pepper

2 

tablespoons Cajun spice mix (see below) – used a little more than this

2 

teaspoons flour

2.5 

cups beef broth

1 can 

(14.5) oz diced tomatoes with peppers (there's a brand out there that makes the both combined)

1

cup medium grain brown rice-uncooked!!

3 – 4

scallions, sliced or avocado
Cajun Spice Mix (this will be more than you need for this recipe. store the remainder in a sealed container for next time)I halved every amount below for my recipe !
1 1/2

tablespoons paprika

1 1/2

tablespoons onion powder

1 1/2

tablespoons garlic powder

2

teaspoons kosher salt

1.5- 2 teaspoon chili powder

1

teaspoon dried thyme

1

teaspoon dried oregano

1

teaspoon black pepper

1/4

teaspoon dry mustard
DIRECTIONS:
Peel and devein shrimp and set aside.
Heat a Dutch oven or large pot over medium heat, then add the olive oil and then the diced onion and celery, red and green pepper. When the onion begins to soften, add the garlic and cook another few minutes until onions are translucent.
Add the spice mix and flour. Mix well and let cook for a couple of minutes.
Add the beef stock, tomatoes and brown rice. Bring to a boil and then lower to a simmer. Cover pot and Let simmer for about 55 minutes. BUT! Check the liquid after about 40 minutes to make sure it hasn't cooked down too much. If it seems dry, add another half cup to a cup of stock or water.
Add in the shrimp and a little Beef Stock if necessary and let simmer, covered, for another five minutes or so.
SERVE AND EVERYONE WILL LOVE YOU!